Join us at Anne and Mark's Art Party & Opening Night Gala on September 24th. There will be 300+ exhibiting artists, live music, dance, spoken word, fire arts, fashion shows and food trucks. This event is at the Santa Clara County Fairgrounds in San José, California. Get your tickets in advance at: artpartysj.com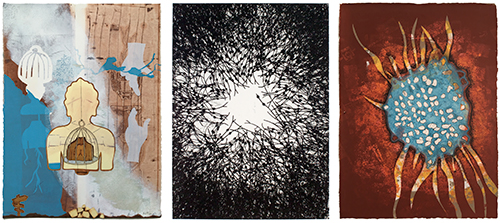 Kent will exhibit new works from three print series: Conditions narrate states of being and coping strategies. Nests is a series of one-of-a-kind experimental prints. Cells explores imaginary living organisms and microbiome.
Nanette will exhibit four images from On Longing, a series of 50 unique monoprints completed this last summer. Each print is a mandala which contemplates and celebrates the natural world. The series takes its name from Susan Stewart's book: On Longing: Narratives of the Miniature, the Gigantic, the Souvenir, the Collection. The Art Party is discussed in the Mercury News, where Nan's work is also featured.
---
Meaning Maker is 10!
Of course, we are trying to make sense of the upcoming November election. Thus we have created a new and improved version of Meaning Maker U.S. Presidential Elections Edition. Download your free copy at the Meaning Maker website, and distribute as you will.
In the San Francisco Bay Area, U.S. Presidential Elections Edition was on exhibit and take away in Vote your Subconscious at Works/San José and will be exhibiting in: POLITICS (NOT) AS USUAL at Branner Spangenberg Gallery:
275A Linden Street in Redwood City from Oct 7 – Nov 13, 2016.
Opening Reception: Friday, Oct 7, 2016, 5:30 – 7:30pm.
This Summer we hand-delivered Art Viewing Experience Edition and U.S. Presidential Elections Edition to two significant events in Europe: The 9th Berlin Biennale for Contemporary Art in Berlin, Germany; and the opening of the Tate Modern Switch House in London. Other European museum and gallery locations which experienced bursts of Meaning Makers include: Brussels, Paris, Dresden and Prague.
---
Don Drake and Kate Jordahl invited Kent to write the afterword for Kate's True North Editions, one poem book, no. 6, featuring Don's poem, End. The book launch for one poem books no. 5 and no. 6 will be at Don Drake's Studio, Dreaming Mind, on Saturday, October 8th from 2 – 4 pm. There will be readings! 5664 Sun Ridge Court in Castro Valley, CA.
Kent is also showing in Al-Mutanabbi Street Starts Here: In Defense of Culture at the San Francisco Main Library, Skylight Gallery, 100 Larkin Street, from September 17 – January 1, 2017.
The Future, an artists' book collaboration between Nanette and Nora Raggio, will be showing the month of October in Words|Matter, Chicago.
Nanette's Storyland v2 was invited for exhibition in Shapeshifting Texts, International Conference on Digital Media and Textuality in Bremen, Germany. Her print, Propagare, was exhibited at the Graphic Arts Workshop, Scuola Internaziale di Grafica in Venice, Italy; and she received a juror's award for her needle felted book, Between Us Two, at The Art of the Book, Sebastopol Center for Art in Sebastopol, California.
Our collaborative photo book, CSI: Las Vegas, was included in 23 Sandy Gallery's summertime Wanderlust exhibition and subsequently acquired by UCLA's Fine Arts Library.
---
On another note, we've decided to take an extended leave from facebook. We still want to hear about your Art Adventures, however. Our individual emails are the best way to let us know what you are doing. We continue to engage with instagram: @kent.manske @nanwylde