It has been a troubling and thought provoking 2020, fueled by a pandemic, wildfires, a hurricane, election propaganda and overdue calls for social justice reform. People across the globe, including friends and family, are facing unfathomable challenges.
We are seeking sanctuary in the garden and the arts as we grapple with current situations and potential futures. The studio continues to be a place to process, make things and share them for further contemplation, discussion and debate.

We send this update of some recent activities with wishes for your own good health and safety, and encourage you to vote.
---
Fallout: Art in this Time
Kent was recently interviewed for this online exhibition. Fallout asks artists to reflect on the ways their lives and artistic practices have shifted as a result of the COVID-19 pandemic and consider their work in the context of a post-pandemic world. Indian University Bloomington- Grunwald Gallery
---
In Cahoots Artist Residency
In June 2020, Kent produced an 8 x 12 foot print mural during a California Society of Printmakers sponsored two-week, shelter-in-studio artist residency at Macy Chadwick's In Cahoots Artist Residency in Petaluma, California. Weave looks into the wonder and beauty of natural systems, our interdependency on them and the perils we face, and will face, if we do not respect the natural order of things. To see the completed work and how it was made, visit Weave.
---
Come to Your Census
Kent aided the 2020 Census campaign by providing artwork for their public service announcements.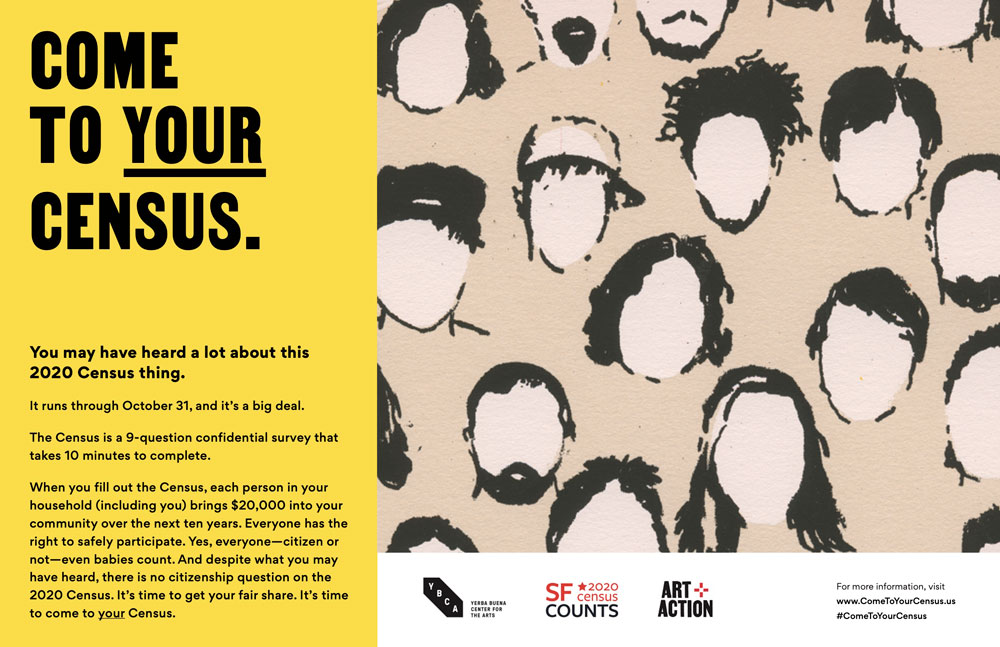 ---
Bird, Nest, Nature
Bird, Nest, Nature features artists inspired by the exquisite beauty of creatures of flight. Birds have long captured the attention of humankind, the earliest evidence of which can be found in cave drawings that reflect all that we cherish in nature from flora to fauna.
Bedford Gallery at the Lesher Center for the Arts
Walnut Creek, California

---
Women Eco Artists Dialog: The Legacy of Jo Hanson
Nanette recently co-curated an exhibition of environmental artwork with Janice Purnell of YoloArts in Woodland, California. Sixteen WEAD artists were featured in this dynamic and engaging show which ran March 19—August 22. Pictured below is Judith Selby Lang's homage to Jo Hanson who was known for sweeping the streets of San Francisco.