We are excited to share our current project with you!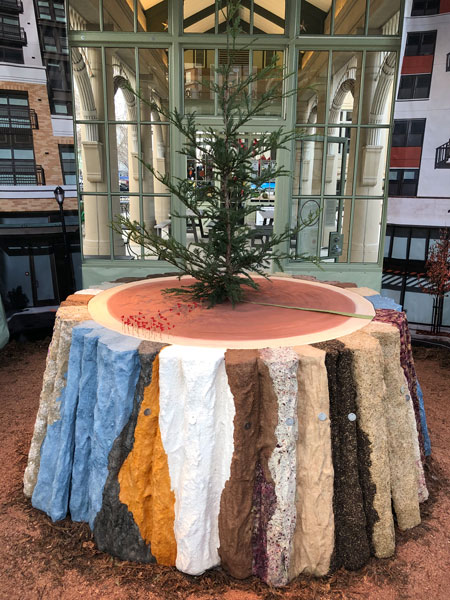 Join us in downtown Redwood City during one of our five public interaction events, or let us know a time that works better for you.
For this commission, we created a 400 year old, Coast Redwood Tree stump by making paper pulp from locally sourced, Redwood City, craft industry byproducts such as: spent beer grain, eggshells, fabric scraps, flower parts and hair. There are 25 unique bark sections which are tagged with legacy tree markers to identify both contributors and byproduct materials. Each section celebrates local labor and honors people who make things with their hands.
Exhibition: February 1—March 8
Outdoor viewing is available 24/7
Artists' Interaction Dates:
Kent & Nanette will be in the Art Kiosk:
• Tuesday, February 11, 1—3pm
• Wednesday, February 19, 2—4pm
• Thursday, February 27, 3—5pm
• Friday, March 6, 4—6pm
• Saturday, March 7, 10—12pm
and by appointment
Art Kiosk
Courthouse Square
2208 Broadway
Redwood City, California
You are the Tree was commissioned by Fung Collaborative Projects in collaboration with Redwood City Improvement Association for the Redwood City Art Kiosk in 2020.