You are the Tree exhibits in the North Bay
EcoArt: Envisioning Strategies and Solutions
Exhibition: February 3–March 25, 2023
Gallery Hours: Thursday–Saturday, 1–8pm
Receptions and Art Walks: February 10 & March 10, 5–8pm
Gallery 1337
Art Works Downtown
1337 Fourth St., San Rafael, California
Curated by Deanna Pindell
In collaboration with Women Eco Artists Dialog (WEAD)
Interactive and often playful, these eco-artworks offer inspiring visions, strategies, and solutions to help our communities build resilience for our changing climate. Each of these widely accomplished artists have created projects in service to the world beyond the gallery.
Several are games that help us solve regional issues; others combine play, work, and education to restore beaches, riparian habitats, and redwood forests. Our love of trees, grief over rising seas and extinctions, concerns about waste, and passions for the cultural histories of our local places are each addressed in enterprising community-engagement designed by artists and architects. Viewers are encouraged to envision a most desirable future.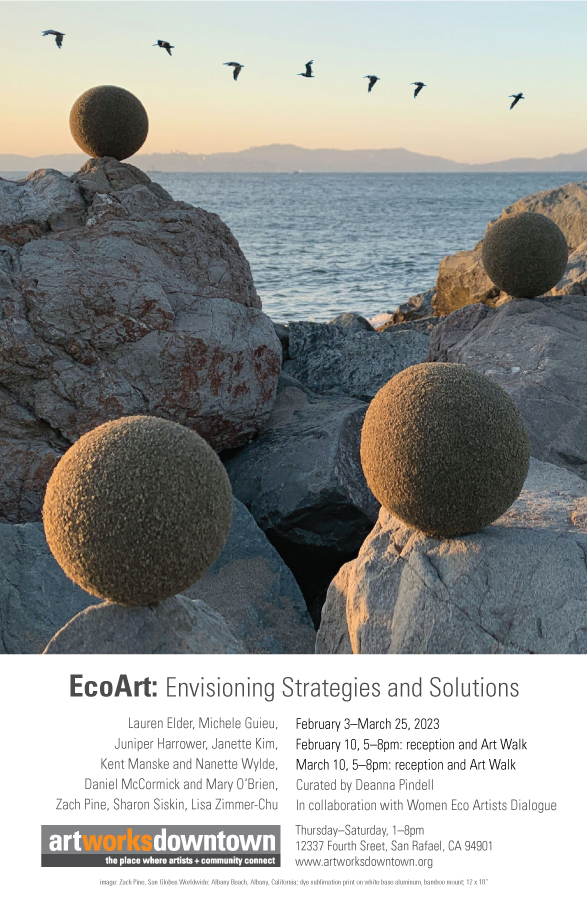 ---
Truth: Artist Books and Broadsides
Exhibition: January 12–February 12, 2023
Gallery Hours: Thursday–Monday, 11am–5pm
Gallery Route One
11101 Highway One, Ste. 1101
Point Reyes Station, California
The Visiting Artist Program at Gallery Route One presents, Truth: Artist Books and Broadsides, an exhibition juried by Sas Colby. The word "truth" has become politicized in the US and continues to take a beating in politics and social media. Can "truth" still mean anything? Can an artist embody or express truth in their artwork?
For centuries, the book, in its various forms, was identified with the notion of "truth" —through encyclopedias, dictionaries, and books of scripture. Because of their visual and material relationship to historical books, contemporary artist books as presented here can be a medium for the expression of political, philosophical, and spiritual ideas.
Sas Colby is a visual artist whose practice includes artist books and work with text. Colby notes, "Truth is a rich and provocative subject in today's world which one might say is more attuned to 'truthiness,' the quality of seeming to be true out of a desire for something to be true, as coined by Stephen Colbert. The concept of truth has long been associated with books, and there was a time when the printed word was taken for truth. In a gentler century, Emily Dickinson wrote, 'Tell all the truth but tell it slant,' not wishing to shock with the totality of a revelation all at once. Our digital world lacks this subtlety and our culture fiercely defends the principle that we're each entitled to our own truth."

---
In the News
Nanette was included, along with Paloma Lucas and Bryan Kring, in a feature article on Bay Area artists who make books.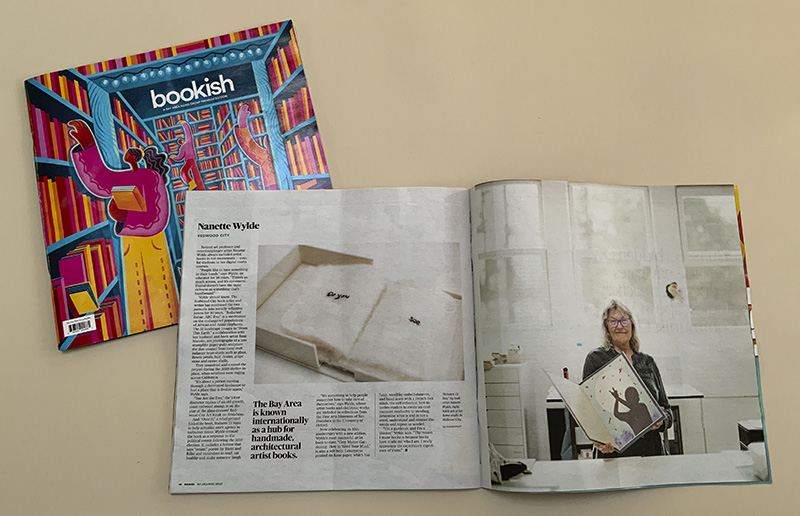 The fascinating world of book arts: 3 Bay Area makers share their stories by Jessica Yadagaran, was included in a special magazine section called Bookish published by the Bay Area News Group on Sunday, January 15, 2023. Bookish was included in a handful of Bay Area newspapers including San Jose Mercury News, the Marin Independent Journal, and the East Bay Times.
---
Kent's photograph Beyond the Reach has recently exhibited at the University of Iowa, the University of Illinois, and P21 Gallery in London as part of the Shadow and Light project, compiled by Beau Beausoleil, a poet and activist in the Bay Area, that memorializes Iraqi academics assassinated between 2003–2013.
---
WORKS San José is having their annual community auction. Check it out!
Exhibition opens First Friday February 3, 5–9pm
Exhibition dates February 4 through March 3
Auction night Saturday, March 4!
---
Entanglements, Nanette's 2022 curatorial publication, is now available at the following locations: The San José Museum of Art (San José), The San Mateo County History Museum (Redwood City), Gallery Route One (Pt. Reyes Station), The Main Gallery (Menlo Park), and online at Hunger Button Books.