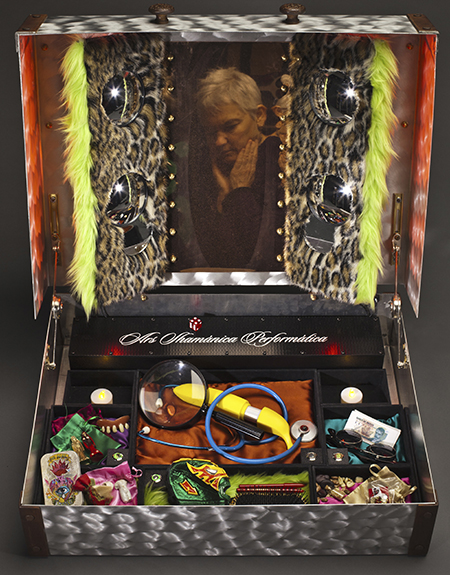 Much has been revealed in this engaging and insightful Whirligig Interview with Felicia Rice. Rice is a printer, publisher, writer, visual artist, performance artist and award winning maker of books. She is known internationally for her artist's book, CODEX ESPANGLIENSIS from Columbus to the Border Patrol, a collaboration with Enrique Chagoya and Guillermo Gómez-Peña. Rice recently celebrated 40 years as Moving Parts Press with a retrospective exhibition: Perseverance furthers: Moving Parts Press 1977-2017 at Felix Kulpa Gallery in Santa Cruz, California. We met up to experience her work, talk about making books, art and working with other creatives.
Read Felicia's Interview here:Â whirligig.hungerbutton.org

---
Eco Echo: Unnatural Selection

March 3Â -Â April 15, 2018
Anne Beck, Barbara Boissevain, Ginger Burrell, Judith Selby Lang, Richard Lang, Kent Manske, Michelle Wilson, Nanette Wylde
---
Exhibition
WORKS/San José, art and performance center
365 South Market Street
San José, California
workssanjose.org
Gallery hours: Fridays 12 – 6 pm, Saturdays and Sundays 12 – 4 pm
Opening Night: First Friday, March 2, 7 – 10 pm
South First Fridays Art Walk:
Friday, March 2, 7 – 10 pm
April 6, 7 – 10 pm
Eclectic evenings of Arts & Culture in downtown San José's SoFA district.
www.southfirstfridays.com
---
Exhibition Programming
Sunday March 11, 2pm
Informal Artist Talk with Kent Manske
Conversation with Kent Manske around his installation Cell Garden. Points of departure will include biology, interconnectedness, life cycles, health, healing and epistemology. The artist will briefly talk about his experimental approach using screen printing to produce one-of-a-kind prints that evolve, mutate and synthesize from blank states to living, thriving organisms.
Saturday, April 7, 2pm
Informal Artist Talk with Ginger Burrell
"Subversive Comfort: Artists' Books as a Tool for Raising Social Consciousness"
Artist Ginger Burrell will discuss the use of the book format by artists to explore political and social concerns. What is it about artists' books that provide a unique opportunity and approachability not usually found in other artistic media? How can the selection of content, materials, images, scale and design engage a viewer and communicate an artist's message? Explore examples of artists' books that attempt to raise social consciousness, including three works by the artist included in the Echo Echo exhibition.
Sunday April 8, 4:30pm
Panel: "Big Dirty Secrets: Three Photographers Engaging in Environmental Advocacy in the San Francisco Bay"
Photographers Judith Selby Lang, Richard Lang and Barbara Boissevain will discuss their ongoing photography projects that address environmental issues in the San Francisco Bay Area. The panelists will share how the devices they use in their work aim to provoke discourse on local issues and encourage environmental stewardship. They will also discuss the relationship between contemporary photography and environmental and social advocacy, including the "Apocalyptic Sublime." Managed and moderated by Barbara Boissevain.
Saturday, April 14, 4:30 – 6:30pm
"Constellations in Paper," Bookmaking workshop with Anne Beck and Michelle Wilson
In this workshop, learn the basic of embroidery on paper. Bring a design of your own or use one provided to sew a design onto a sheet of decorative paper. Embroidery on paper can be a little different that the traditional form on fabric, but still can create a wondrous and exquisite design. At the end of this workshop, this embroidered paper can stand alone, or participants will have the option of turning it into a cover for a handmade book! No embroidery or bookbinding experience necessary, all materials provided.
In addition, Anne and Michelle are Artists in Residence at the San Jose Quilt and Textile Museum through March 24, working on the Rhinoceros Project. Visit www.sjquiltmuseum.org/artist-residency/ to learn how to participate in sewing circles and paper-making happenings.