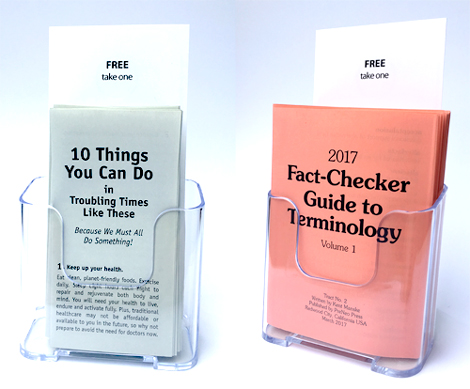 With both Spring and politics in the air, we both had fun writing tracts for free distribution. Find racks filled with tracts on the wall at:
Alternative Facts at Works/San José.
Reception: April 7, 7 – 10pm
Exhibition Dates: April 8 – 23, 2017
Location: 365 South Market Street, San José, California
---
Foodies is currently showing at:
Art of Gastronomy II, Healdsburg Center for the Arts, Healdsburg, California. March 8 – May 14.
Celebrate!, Anderson Academic Commons, University of Denver, Denver, Colorado. April 7 – June 25.
---
Nanette has artists' books in two traveling exhibitions:
Global Matrix IV International Print Exhibition, Robert L. Ringel Gallery and the Stewart Center Gallery at Purdue University, West Lafayette, Indiana.
Idaho Booker's Dozen 2017, Â Idaho Center for the Book, Boise State University, Boise, Idaho.
and a print from her recent On Longing series is showing at:
2017 Wheaton Biennial: Printmaking Reimagined, Beard & Weil Galleries, Wheaton College, Norton, Massachusetts.