September is an active month in the Bay Area for art and environmental action.
The Global Climate Action Summit will bring together leaders in the sciences, health, education, politics and engaged citizens in San Francisco September 12 – 14, 2018.
Affiliate events throughout the Bay Area, open to the public, are being hosted by diverse organizations and include exhibitions, talks, interactive events and live music. On Saturday, September 8, thousands of activists/participants will gather near Sue Bierman Park in San Francisco before marching down Market Street to Civic Center Plaza, where 55 murals will be painted in and around the park to create, what organizers are calling, the biggest street mural ever.
---
These are our current exhibitions:
ClimART: 2018 Climate Action Exhibit
For ClimART Kent will exhibit print installations, Omnis cellula e cellula (all cells from cells) v1 & v2. The exhibition features 48 international artists making print-based works about our environment.
September 8 – 23, 2018
Opening Reception: September 13, 6 – 8pm
Academy of Art University Cannery Galleries
2801 Leavenworth Street, San Francisco, California
---
Eco Echo: Art and Environment Laboratory 
Bay Area artists Anne Beck, Barbara Boissevain, Ginger Burrell, Judith Selby Lang, Richard Lang, Kent Manske, Michelle Wilson, and Nanette Wylde (from the environmental art collective Eco Echo) will create a dynamic, interactive art exhibit celebrating the relationship between art, science and the environment.
The Cubberly Studios ARTLab will be transformed into an art/science laboratory where the public can participate in art "experiments" allowing children and adults to investigate the interrelated spheres of art, ecology, environmental science and conservation. The spirit of this event is to celebrate the experimental nature of scientific inquiry and the art-making process. Each artist will create a lab specific to his or her own media and process, challenging the viewer to engage with the environment on a deep and creative level.
Kent and Nanette will orchestrate a CoLABorative Screen Printing Event at the opening reception. Come pull some prints and take home art. This event is great for kids.
September 15 – 23, 2018
Opening Reception & CoLABorative Screen Printing Event:Â Saturday, September 15, 7- 9pm
Gallery hours:Â September 16, 22, 23:Â 11- 4pm
ARTLab Gallery
Cubberley Artist Studio Program
4000 Middlefield Road, Palo Alto, California
---
Thinking outside the Frame
There is one more month to experience Kent's installation Genetic Garden v5.17.18 in this California Society of Printmakers' exhibition featuring works that fall outside of the realm of traditional printmaking, including large-scale prints, installation and book arts.
through September 30, 2018
NUMU
106 E. Main Street in Los Gatos, California
---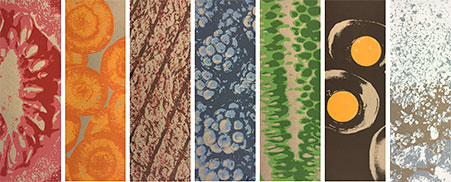 Connect and Collect
Our artist's book Foodies: Seven West Coast Foodie Vignettes is included in this annual SJICA exhibition, auction and fundraiser.
September 29 – October 13, 2018
Opening Reception: Sunday, October 7th, 1 – 4pm
Silent Auction: Saturday, October 13th, 5 – 8pm
Gallery Hours: Tuesday – Friday, 10 – 5pm; Saturday/Sunday, 12 – 5pm
San Jose Institute of Contemporary Art
560 South First Street, San Jose, California
---
Book Arts Jam 2018
The Book Arts Jam is a one day celebration of the book, print & paper arts held on the peninsula, midway between San Francisco and San José. Activities include: exhibiting artists, a gallery exhibition, material and ephemera vendors, make & take activities, letterpress printing demonstrations, speakers and artists' talks.
Sunday, October 21, 2018, 11am – 5pm
Redwood City Community Activities Building
1400 Roosevelt Avenue
Redwood City, California
---
Our thoughts are with all who are experiencing the effects of drastic climate challenges such as the devastating fires here in California.
Kent & Nanette