Friends,
There is a dizzying schedule of printmaking events and activities in the Bay Area this week associated with the Southern Graphics Council (SGCI) printmaking conference, March 25 – 29. Below are several opportunities to see our new work. For conference schedule visit Bridges SGCI Schedule.
We hope to see you.
Kent & Nanette
---
Undercurrents
Undercurrents, a group portfolio Kent curated is exhibited at the Peninsula Museum of Art through June 8.
SGCI Reception: Thursday, March 27, 5-7 pm.
Public Reception: Sunday March 30, 1- 4 pm.
Artists: José Arenas, Servane Briand, Julia Bradshaw, Mike Day, Ema Harris-Sintamarian, Ianne Kjorlie, Eric Kneeland, Kent Manske, Robin McCloskey, Doug Minkler, Susan O'Malley, Fanny Retsek, Karen Rush, Nanette Wylde.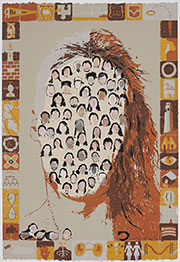 I Will Remember by Nanette Wylde. Whence by Kent Manske.
---
Awagami Paper Factory
Our new prints and books printed on Awagami paper will be shown at the conference Vendor and Publisher's Fair.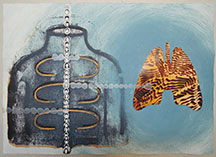 Terrain & Passing by Kent Manske.
---
Wabi Sabi
Kent Manske & Eric Kneeland screen printed on the gallery wall during the Wabi Sabi opening reception March 15, 2014. The exhibition run through April 12th.
Alterspace Gallery, 1158 Howard Street (between 7th & 8th)
Thursday-Saturday 1-6 pm
Other Conference Events
The Mission Art Walk is a self-guided walk takes place Saturday evening, March 29, 2014, from 6 to 9 p.m. and includes 17 different venues, all featuring printmaking and works on paper. Here's a pdf map.
Photo by Harlan Crowder.